Oggi diamo il via ad una piccola rubrica, intitolata
Ciak
, che avevamo in qualche modo giù annunciato nel post sulle anterpime della prossima stagione televisiva della
CW
,
qui
.
L'urban fantasy, ed il fantasy in generale, sono generi che, partendo dal libro ed attraverso la trasposizione cinematografica, molto spesso ci regalano film e serie televisive di incredibile successo.
Quest'oggi vogliamo approfondire con voi una serie televisiva strepitosa, giunta ormai alla conclusione della sue seconda serie, e che sta appassionando tutto il mondo. Sto parlando del Trono di Spade!
Trasmessa in America con il titolo originale di Games of Thrones, la serie nasce dalla trasposizione cinematografica dei romanzi fantasy noti con il nome de "Cronache del ghiaccio e del fuoco" (A Song of Ice and Fire) di George R.R. Martin.
In Italia la prima stagione è stata trasmessa da Sky, ed è stata tratta dai due libri della serie, editi da Mondadori, con il titolo "Il trono di spade" e "Il grande inverno". La seconda stagione, attualmente in corso sia in America che in Italia, si concluderà a Giugno con la messa in onda del decimo episodio della serie, intitolato Valar Morghulis.
La prima stagione: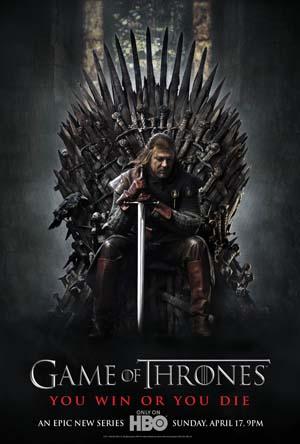 Eddard Stark, lord di Grande Inverno, viene incaricato dal suo re e amico Robert Baratheon di recarsi ad Approdo del Re per ricoprire la carica di Primo Cavaliere del Re. La guerra fra i Sette Regni è però alle porte, a causa degli intrighi e delle mire al trono dei membri della nobile Casa Lannister. Jon Snow, figlio illegittimo di Eddard Stark, si arruola invece nei Guardiani della notte e si reca sulla Barriera, enorme muro di ghiaccio che separa il mondo degli uomini dalle ostili terre del Nord, da cui sta arrivando una minaccia terribile. Nel frattempo Daenerys Targaryen e il suo crudele fratello Viserys, ultimi superstiti della nobile Casa Targaryen regnante prima della rivolta dei Baratheon, cercano di ricostruire l'antico potere nelle selvagge terre al di là del mare.
La storia, quindi, si svolge su più frangenti e coinvolge diversi personaggi, raccontando la vicenda di un regno immaginario, di complotti e di storie personali, in constante mutamento. Coinvolgente, dalla trama carica di colpi di scena e che vi terrà con il fiato sospeso in ogni episodio, il Trono di Spade è una serie televisiva che gli amanti del fantasy non possono assolutamente perdere.
Al via della seconda stagione, ritroviamo le vicende dei Sette Regni come le avevamo lasciate. La guerra è alle porte, ed i pretendenti al Trono di Spade sono disposti a tutto pur di regnare incontrastati sul regno intero. Se avete amato gli intrecci e le storie della prima stagione, ebbene anche questa seconda serie risulterà per voi imperdibile.
Cosa aspettate quindi? Non c'è tempo da perdere!!